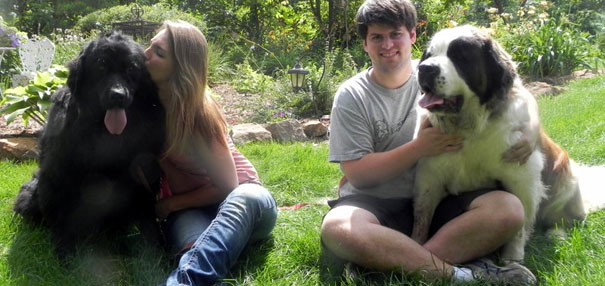 Pet Boarding Services for Dogs of All Breeds and Sizes
Bed and Bone Too is a pet boarding facility in Buffalo, MN, like no other. We are not a kennel. Since the establishment of our pet bed and breakfast in Minneapolis in 1991, we have provided a safe, loving environment where dogs can play, relax, and have fun.
Bed and Bone Too is your dog's home away from home. We have a canine inn setup, so your dog has as much fun on vacation as you do. Through our pet taxi service and daytime and overnight boarding options, we ensure dogs of all sizes and breeds have the least disruption from their normal routines as possible.
Our Pet Boarding Rooms
Tater Tot Room
The Tater Tot Room is for dogs less than 20 pounds.
Mini-Party Room
The Mini-Party Room is for dogs between 20 and 40 pounds.
Couch Potato Room
The Couch Potato Room is for easygoing or mellow dogs, some newcomers as well as submissive and shy dogs.
Elderhostel Room
The Elderhostel Room is for older dogs, dogs with medical conditions, and dogs with limited mobility.
Party Room
The Party Room is for medium to large dogs that like to play.
Wild Ones Room
The Wild Ones Room is for medium to large dogs aged six months to two years (future party dogs).
How We Choose Your Dog's Room
Upon arrival, a Bed and Bone Too staff member spends a few hours with your dog. Once we've decided which pet boarding room best fits their personality, we do a test run and accompany your dog into the chosen room. When it appears all is well, we leave your dog to roam with new friends. We always supervise the dogs.
Our staff is trained in dealing with all types of dogs. They all receive information on behavior, medical needs, and other facts about your dog.
On occasion, a dog has trouble adjusting, experiences behavioral issues, or doesn't fit in. If this happens, we have an area where a dog can spend time apart from other dogs.
Our Pet Boarding Services
Bed and Bone Too Inc provides the following high-quality services for dogs and their owners all year round. Please contact us for pricing.
Daycare and Overnight Boarding
We care for dogs of all sizes, ages, breeds, and temperaments. We provide short-term and long-term, daily, and overnight boarding care.
Baths
We provide on-site dog bathing services.
Grooming
We have relationships with local groomers and can take your dog to be groomed. Dog grooming needs to be planned prior to boarding.